Early Years
Nursery Class
Welcome to Nursery, where the learning begins. We have high expectations of all children and lay the foundations for future learning at Featherstone Wood.
We work hard every day focussing on the 7 key areas of learning: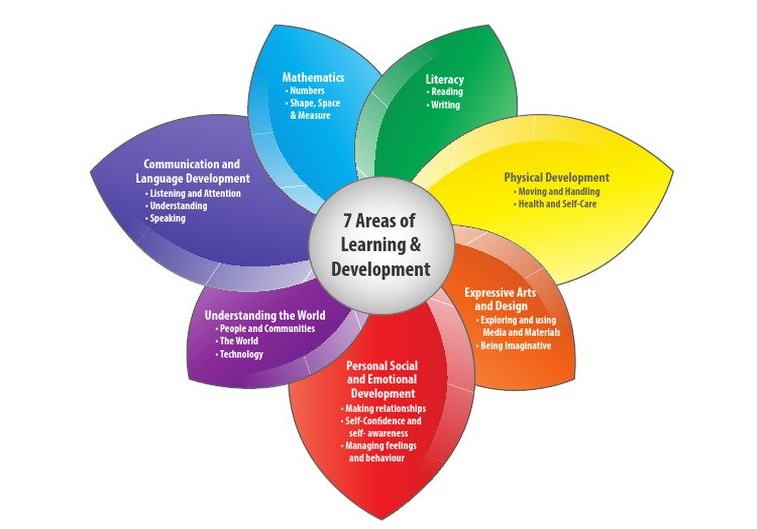 The Summer term is all about....
We are so excited about this topic and have lots of fantastic activities planned for the children!!
Communication and Language
Communication and language is extremely important to us and this term we are continuing our work with the Neli-N programme with the whole class. This programme is supporting and improving the childrens language skills using stories. The children are making fantastic progress and are really enjoying the daily activities, ask your children if they can remember our special word for the day. We are also learning all about The Very Hungry Caterpillar story, we are using it to talk about how we grow and animal life cycles.
We will be spending this term practicing writing our name, the children will have lots of opportunities to write their names when they are with their adults and also during discover and learn.
We will also have lots of opportunites for the children to practice mark making inside and outside the classroom during discover and learn with our writing table.
We will continue using Bug Club phonics this term, the children have been practicing their listing skills by identifying different animal sounds. We are moving on to oral blending and segmenting this term, we have lots of fun activities planned like Simon says and Packing for the Beach. Practicing these skills will help your children as they begin learning to read and write in recpetion.
This term we will begin counting objects to 3, the children will revisit their subitising skills to 3 and then check by counting. We will be counting actions as well as objects and talking about 'all together' to help the children understand cardinality. We will be using The Very Hungry Caterpillar to help with our counting, we will be counting the fruit that the caterpillar ate and also make our own caterpillars.
The children will be taking part in daily dancing to build up their strength, these songs include Dinosaur Stomp by Koo Koo Kanga, Dr Knickerbocker by the Wiggles, The Freeze Song by Scratch and The Days of the Week song on BBC Supermovers. We will also be spending lots of time outside, encouraging the children to climb on the equipment outside and use the balance beams.
Expressive Arts and Design
This term we will be supporting the children with their imaginative play during Discover and Learn. We will use the children's knowledge of stories to support them in expressing their own ideas and use the wide range of resources we have to let their imagination run wild. We will also be using more craft materials to create hats for the Queens Jubilee, and create our own seaside landscape.
Personal Social and Emotional
We are continuing our focusing on turn taking and friendships. Adults will be supporting the children in talking about their feelings and sharing their own ideas with others. Also, our older nursery children will be learning how to listen to the ideas of their friends when they are playing. Throughout the term we will also be helping the children understand how to look after thei envirnment and keep it tidy.
We will be looking at the lifecycle of animals. We will use our story of The Very Hungry Caterpillar to look at the lifecycle of a caterpillar, we are also expecting some very special visitors after the May half term. The children will spend lots of time outside and we will talk about how the weather is changing as we come into Summer. We will search for minibeasts outside and talk about how the tree's are changing.
We read to the children every day in school. It is important that children shares books with you at home, this helps with their development in all areas.
Here is a link to some very important information on reading at Featherstone Wood.
Reading Leaflet
Our school library is back in action and children will be bringing a library book home on a Friday for you to enjoy over the weekend. These must be returned the following Friday to be changed.
Mrs Levy is class teacher and Miss Doggett is the class teaching assistant.

Staff are available at the start and at the end of every day. Appointments can be arranged for longer meetings, if necessary. Please contact us in writing to let us know of any pre-arranged absences (e.g. Dental/Medical Appointments) and let us know if anyone different will be collecting your child from school at any time.
If you have any questions or need support with anything please do not hesitate to contact Mrs Levy:
nlevy@featherstonewood.herts.sch.uk
Children should have a water bottle in school every day.

Please make sure children are dressed appropriately for the hot weather.

Please make sure your child has a sun hat and has sun cream applied before coming to school.

A change of clothes to leave at school is a good idea incase they get messy or wet.

Grapes must be cut up in packed lunches if your child stays all day

We are a nut free school and promote healthy lunches, no chocolate or sweets in packed lunches please
Here are some websites/resources to help with home learning:
https://www.bbc.co.uk/iplayer/episodes/b08bzfnh/numberblocks
Maths Fun: https://www.topmarks.co.uk/Search.aspx?Subject=37
Phonics: https://www.phonicsplay.co.uk/resources/phase/1
Please take the time to download this amazing app. Click on the image below and it will take you to the website.